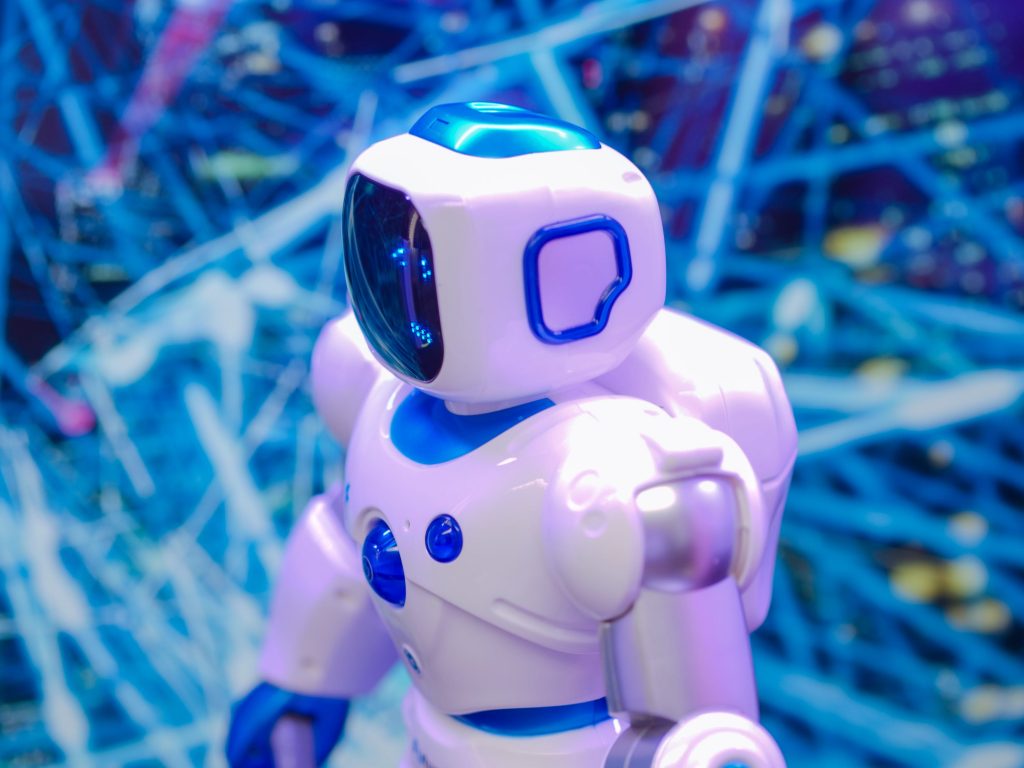 Whether you know it or not, as a customer, you probably have interacted with artificial intelligence. Artificial Intelligence or AI is the use of machines to problem-solve and make decisions based upon human comprehension.
When we do a Google search, open our Facebook newsfeed, or receive a product recommendation from Amazon, AI lurks in the background.
To find the recipe for success, AI must pass the "Turing Test." The Turing test occurs when human interaction tries to distinguish if the response is human or a machine. The more human-like response that happens means a better customer experience. A better customer experience means a successful interaction.

What is AI Customer service?
Artificial intelligence takes data and uses it to identify the best representative available to address the customer's needs. It then provides the customer representative with necessary background information before they interact with the customer.
Voice AI and chatbots are two types of artificial intelligence in the customer service industry. Voice AI is a tool that uses voice commands to receive and interpret directives. Devices can, in turn, interact and respond to human questions.  A chatbot is typically an online computer program. It interacts with a human through either written or verbal communication. The device's simulation processes the human conversation as if they were communicating with a natural person.

Benefits Of Using AI In Customer Service
You may be wondering how can AI in customer service be beneficial. Overall you want to provide your customers the best overall experience. Here are some ways AI can help provide a successful solution to the problems your customers might be experiencing.
 1- Allows a layer of 24/7 Customer Support
A customer with an important question is easily frustrated by not being able to receive help. Especially if the inquiry is service-specific, limited customer support hours may leave a customer waiting multiple days with no help in sight.
Customer service chatbots and automated assistance can fill this void. Creating a database with a warehouse of answers can allow chatbots to answer specific questions. These answers can help improve the customer experience without the need for available staff.
The chatbots may not be able to answer unique and complex customer problems. However, it is suitable for fundamental issues from many customers.
 2- Cost Reduction
Onboarding new employees in a call center are costly. The number of employees needed to operate the call center can affect the bottom line.
As new employees acclimate to the new environment, veteran staff still have a more significant portion of the workload. The extra load on veteran employees decreases their performance and reduces overall call quality.
Call centers have a painfully high turnover rate. Unfortunately, this means new hires get expensive, especially with proper training considerations.
As you can imagine, an AI chatbot is capable of providing customers similar knowledge. Chatbots allow some essential services while reducing the overall cost. This AI solution enables customer representatives to focus on more challenging problems.
3- Reduction in Waiting
When a customer needs assistance, AI is capable of filling in the gaps. A customer typically provides name, address, phone, reference number, and other essential details. AI can collect this info automatically and employ predictive methods to direct the caller to their solution correctly.
Typically customer representatives handle the primary inputs to extend the process. But an AI chatbot takes this data and streamlines the callers' needs to an appropriate resolution, leading to reduced wait times.
AI's ability to route calls to the proper technician not only reduces wait times it provides a better customer experience. Customers hate being transferred multiple times. Reducing this issue helps give a better experience.
4- Evolving Technology
There can be a significant risk of losing out on efficiencies and competitive advantages from technological innovations for a modern and professional business. AI customer service is the wave of the future.
As AI technology expands, the capacity of AI to respond to consumer inquiries becomes more contextualized.
The current technology is considered reactive in its current state. Initially, some find chatbots capable of answering more complex questions than expected. Some AI algorithms even predict the type of questions to expect. Thus, Chatbots can provide answers before a question is asked.
The technology is not perfect as it is still growing. As automation evolves, expect AI to become more commonplace as a customer experience.
5- AI in Social Media Messaging Apps
Voice AI is not the only AI service. Chatbots play a vital role in AI customer service, answering questions. The rise of social media apps has seen increase business profiles. Over 1.5 billion people on Facebook means businesses need to be ready to communicate with potential customers at any moment.
A person can quickly seek support through the messaging app instead of a voice call. Utilizing AI chatbots can offer a whole new realm of service to this statistic, improving company efficiency overall.

How to use AI in Customer Service?
Implementation of high-quality customer service AI is not a quick installation. Knowing how to implement AI customer service industry needs to be well thought out.
First, you need to define your business needs. Here you will need to determine the problems you want AI to solve. Asking yourself what the main obstacles AI can solve can help you produce a successful model.
Once your business needs are defined, you must identify your AI project's potential business and financial benefits. Consider all the possible AI implementations. Bridge each plan with how it will improve or hinder current customer service solutions.
Then you can focus on near-term goals and illustrating financial or business value as best you can.
Once you have a list of potential solutions, you can slowly integrate them into the daily workflow. Start small and analyze how it fits into your business processes. Explore if adding an AI-based solution would boost your operation over the long term.
Next, you will need to create the AI platform. You will need to evaluate whether your internal employees can develop artificial intelligence within a given time frame.
Prioritizing which objectives can be completed in-house and what needs to be contracted out to AI software specialists. The goals should include:
Needing a new solution from scratch.

Ready-made products off the shelf.

Collaborating with a partner.

Outsourcing the entire development process.
It is worth researching existing solutions before you begin your AI development. The most cost-effective approach could be direct integration. Knowing others' answers will help design the product as you find the pros and cons of each product.
When you have a design approach developed, consult a domain special
You may already have a highly skilled developer team that can build your AI project. Though a domain specialist has the expertise to further iron out any pitfalls you may have missed.
Remember when developing AI is not the same as building typical software. AI is difficult to learn as it is a hyper-specific programming niche. Experience with the human interaction aspect is needed to create the proper algorithms.
Once you have the software created, you will need to implement your datasets. Here it is essential to start small. Work out the incoherent information AI might be translated to your customer. It is vital to provide the most accurate information possible.
The most advanced algorithms in the world can not always provide the results you want. It is essential to do user testing in your development. You can provide high-quality data to work from, but the information provided might be inaccurate. Organize, update, and expand your dataset as things are corrected.

What are the Downfalls of AI in Customer Services?
Many great benefits exist when using chatbots and artificial intelligence to augment customer support, but this does not mean it lacks drawbacks. Even if you are considering integrating AI, it is wise to understand the potential downside.
1- Improper Escalation
 While we have discussed in length the significant benefits of context-ready AI, this solution has not been perfected for many businesses. Even with its improvements, AI is bounded by a scope. Unique customers issues can have the phone call routed to the wrong department.
When voice AI routes the call to the wrong technician, this provides a poor experience for the customer. The customer representative then has to transfer the customer over to the correct area to answer the customer's question.
2- Machine Interaction
Most people have a strong dislike for automated calls. While a machine can direct fundamental problems to easy solutions, it may not address the entire scope of a caller's concern.
Considering callers need assistance for various reasons, it's not uncommon for them to have feelings of frustration or anger. Machine and AI respondents can exacerbate this problem, whereas human representatives are more comforting.
3- Cost and Maintenance
Because AI chatbots and artificial intelligence-driven customer support are complex, they require an educated staff for proper management.
Installation, creation, and "education" of bots need ongoing data management. Employees with specific coding experiences in Visual Basic are necessary to create upgrades to the databases.
As you can expect, further developing AI technology can be expensive. The experience of the specialized staff is only one expense. Utilizing third-party services for chatbots and AI services is another expense. While the software might be easily accessible, this way, it has annual fees.

What is the Future of AI in Customer Service
Artificial Intelligence isn't a newborn baby now. It's grown enough and is being embraced by many industries. Artificial Intelligence by customer service teams is expected to rise by 143% in the following year.
The actual rise will determine the overall need for AI customer service in businesses. Customers are being impatient and asking more and more queries, but work hours are still limited. Companies have no time to handle every customer personally, so they're shifting towards AI to automate this job for them.
If you haven't thought to use them so far, think again because the future isn't very far. Those who'll start using AI from now will have an edge in the future.

Conclusion
Greater demand for better customer service experiences has created a need to seek automated solutions from Artificial Intelligence. Evolving technology from automatic responses has made extraordinary advancements every year. 
Improving the ability to navigate and adapt to specific situations is improving the customer experience.
As customer service is associated with brand strength, it's worth looking into chatbots. Artificial intelligence-based support to handle the torrent of issues can improve customer service across the board.
Removing mundane queries can expedite customer representatives' time. It is crucial to maintain a dialogue with customers throughout the year. Cutting out these queries helps decrease extra labor-associated costs in the call center.
When you ask yourself, "How can I provide the best customer service experience" it is essential to think about how AI can supplement the pitfalls in your current company's customer service model.
AI might be the right call. Indeed, we're a long way from a comprehensive AI customer service experience. It is difficult to argue against providing customers an 'employee' that passed the Turing test.