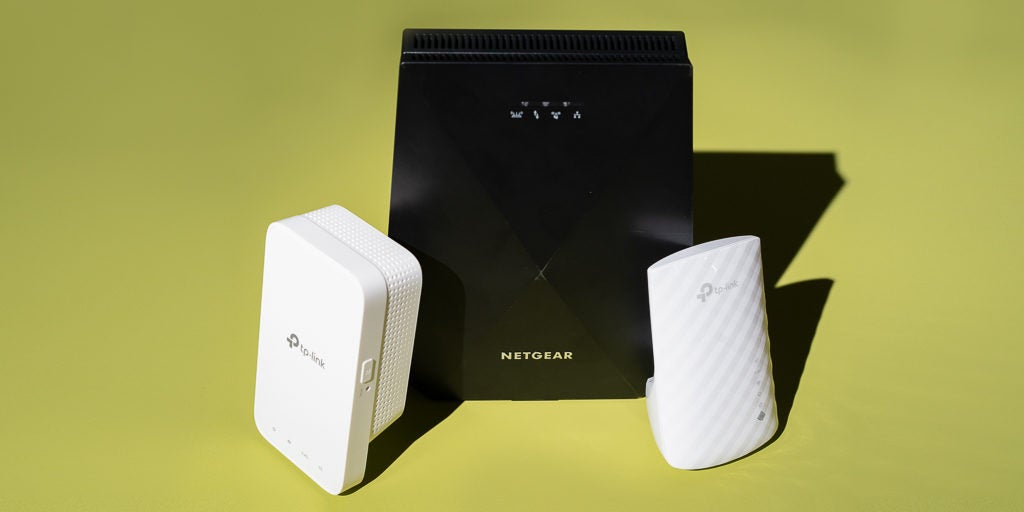 What good is having a backyard if you can't enjoy it because of your WiFi signal? This blog post includes detailed reviews and more about the best wifi extenders for your backyard so that you can find the perfect device to get your yard back! Our favorite thing about these products is how user-friendly they are – anyone in their right mind will be able to set them up with ease. So what are you waiting for? Scroll down for our best wifi extenders list!
TP-LINK's CPE210 is a high-performance wireless device that features the latest MIMO technology with an integrated 9dBi dual-polarized directional antenna.
Key Features
Weatherproof Design
The CPE210 is designed to withstand the most challenging weather conditions. moreover, It was tested in temperatures ranging from -40°C to 70°C and can be used in indoor and outdoor environments.
Antennae Adjustable Transmission Power
The antennae are adjustable, providing transmission power of up to 25dBm (100 mW). It enables you to fine-tune your WiFi signal for optimal performance in different environments.
Multiple Operating Modes
The CPE210 can be used in three different ways; as a stand-alone device, a wireless router, or an access point.
Can be Reset Remotely
With the Tether app, you can reset and upgrade your device remotely.
Great Customer Reviews
TP-Link products are well-reviewed by customers and experts alike. For example, the CPE210 has been given 4 out of 5 stars on Amazon!
Great Value
For just $39.99, you get a high-quality antenna that will give you excellent performance for years to come.
What We Liked
What we Didn't Like

Extended WiFi 200 feet
Excellent quality
Amazing price
Great features, can control power output
Can pull WiFi in a metal building
Great product-works with "cheap" WiFi
Solid performance at an affordable price

Setup requires a computer with an Ethernet port
More Like This:

Mesh networking systems offer the perfect WiFi upgrade for homes and offices and public places such as restaurants or hotels. The main router is connected to a broadband modem via a wired connection. Also, there are two or more satellites or wireless nodes that can be placed in different rooms.
Key Features
Fast System
The Orbi Whole Home WiFi System is the fastest and easiest way to blanket your home in WiFi. It's simple to set up, covers up to 5,000 square feet, and maintains its speed even as more devices use it simultaneously.
Great Coverage
The Orbi Whole Home WiFi System provides fast and reliable WiFi coverage (up to 5,000 sq ft. coverage) throughout your entire home.
Guest Capability
Create a separate network for guests with parental controls and password protection.
Mesh WiFi Network (ultra-performance)
Ultra-performance meshes WiFi network blankets every inch of your home with speeds up to 5 Gbps, which eliminates WiFi dead zones and buffering for uninterrupted HD streaming throughout your home.
Easy Setup
Quick & easy setup with the Orbi app on your smartphone or tablet—just plug it in and follow the instructions! You can easily create a separate guest network, parental access controls, perform speed tests, and more right from the palm of your hand. Set up additional satellites as needed to cover areas that are out of range of the router or where you need extra coverage.
What We Liked
What we Didn't Like

Can withstand heat, rain.
Additional range of 2500 sq. feet
Stable and uninterrupted WiFi network

It does not offer enough features for the price

Ubiquiti UAP–AC-M-US mesh access points are best suited for indoor and outdoor use. This makes it easy to set up expandable networks in your house, business, internet cafes, hotels, or other dense areas.
Key Features
Intuitive & Robust Configuration, Control, and Monitoring
The UniFi Controller software is a powerful wireless software engine ideal for high-density client deployments requiring low latency and high uptime performance. With its software-based capabilities, the UniFi virtual control plane allows for unlimited scalability under one centralized controller. You can also remotely access the UniFi Controller to upgrade deployed UniFi APs while in the field.
Supports Hotspot
You can customize the guest portals with easy options such as an external portal server, hotspot configuration, authentication, bandwidth rates, usage limits, data usage, and limiting duration. The hotspot functionality supports voucher-based authentication and billing with significant credit cards.
Remote Firmware Upgrade
Save time and effort by remotely upgrading firmware on multiple devices simultaneously. For example, upgrade your entire deployment at once or one device at a time.
What We Liked
What we Didn't Like

It can be used indoors and outdoors.
Establish a wireless mesh network
For superior performance, provide wired uplinks
The controller makes it easy to configure, manage and upgrade your network.
Can handle many throughputs

Antenna options are limited
Range issues

Join AC1200 is one of the best wifi extenders. The IP66 rating makes it ideal for outdoor living. It is also protected by an ABS shell enclosure, which gives it outstanding characteristics like water and dustproof, lightning protection, and high-temperature resistance.  Furthermore, you can mount it on a pole or a wall.
Key Features
Dual-Band and High Transmission
A dual-band outdoor access point can increase your wireless coverage by up to 867Mbps at 5GHz or 300Mbps at 2.4GHz. In addition, the latest 802.11ac WiFi standard is supported, which is three times faster than Wireless N.
Extensive Coverage and Stable Connection
Two 5dBi Omni-Directional Antennas provide 360deg network coverage. As a result, receiving wireless range becomes more stable and broader. In addition, the power amplifier can be used with both 2.4G or 5.8G antennas to improve wireless network reception and transmission.
Multi-Working Modes & Simple Setup
The CF-EW72 supports AP/Router/Bridge/Repeater Modes. This mode can meet your network needs in different environments. For larger yards, AP mode is recommended.
Built for Outdoor WiFi Coverage
IP66-rated weatherproof housing ensures that the device can be used in harsh outdoor environments or extreme cold, heat, or continuous moisture conditions. It provides lightning protection, dustproof, antifreeze, high-temperature resistance, antioxidant and waterproof.
Flexible Installation
Ethernet support allows for flexible deployment. The easy mounting design makes it easy to install. It can be mounted on poles or walls.
What We Liked
What we Didn't Like

Dual-band antennas that are powerful and reliable
High-quality IP66 waterproof construction
Simple setup with a convenient design
Up to 1167 Mpbs total

Mounting instructions can be difficult to follow
Software is available in a foreign language

Orbi Outdoor WiFi Mesh Extension or Add-On Satellite extends WiFi outside. It can be used with any existing WiFi router. It is weather-resistant and can withstand rain, snow, dust, or sprinklers. For example, you can work in your garage or garden while keeping your devices connected via solid WiFi signals.
Key Features
Smart Homes Deal
Orbi Outdoor makes it easy to keep all your smart home devices connected at all times. However, any interruption in your network connectivity can compromise your security and interrupt your entertainment.
Keep Your Guests Connected
If you have an Orbi Router, keep the party going by allowing your guests to connect to a simple-to-configure Guest Network. Or is capable of bonding many devices at once without slowing down your WiFi speed. Only available for guests when Orbi Router is paired.
Stream Music and Videos Outdoors
You can now stay connected whether you are working outside or in a separate room. So, for example, you can work in your garage or garden and still have WiFi connectivity to all of your devices.
Weather-resistant
It can withstand rain, snow, and sprinklers. Mount and attach the Orbi Outdoor WiFi Mesh Extension or Satellite to any porch, gazebo or shed to extend your outdoor connectivity.
What We Liked
What we Didn't Like

Compatible with any WiFi router/gateway
Can withstand heat, rain
Additional range of 2500 sq. feet
Stable and uninterrupted WiFi network

It does not offer enough features for the price

The dap-1610 AC1200 WI-Fi range extension is a plug-in wireless repeater that allows you to extend your existing wireless network. Small and lightweight, it can be placed anywhere in your home and supports wireless AC speeds of up to 1200 Mbps.
Key Features
Extended Coverage
Provides extended range coverage for your existing WiFi network to enjoy uninterrupted connectivity at maximum speed with low latency and enhanced range
Dual-Band Extender (High Speed)
This Dual Band repeater can be used as a Signal Extender, Access Point, or Wireless Bridge by simply connecting it with an Ethernet cable directly between the router and the device which needs internet access. It supports both wired and wireless connections in one device.
High Compatibility
Compatible with all IEEE 802.11ac/a/b/g/n devices such as Smart TV, FireTV Stick or Android TV Boxes, game consoles (Xbox One, PS4), internet phones (IP phone), PC's, Mac computers, etc. It also works well with Amazon Echo(Alexa), Google Home(Google Assistant)
Smooth Streaming on Multiple Devices
2.4 GHz and 5 GHz bands can be paired together to form one connection that gives a maximum speed of 1200 Mbps simultaneously that helps in smooth streaming and surfing on multiple devices.
Secure WiFi Connection
DAP-1610 allows you to create secure wireless connections with other devices within your household, eliminating signal dead spots, buffering, or lagging issues in almost every room of your home while giving an uninterrupted internet experience for connected users.
What We Liked
What we Didn't Like

Dual-band WiFi, up to AC1200 combined speeds, throughout your home
Supports D-Link WiFi Mesh and Mesh smart roaming
WPA3(TM), wireless encryption support
IPv6 is ready to meet the requirements for the next generation Internet
Wall plugs blend well with any environment, thanks to their discreet design.
The D-Link WiFi App makes it easy to set up your network

It takes some time to connect to the router

The Amped Wireless High-Power AC1750 router is state-of-the-art with unbeatable 802.11ac WiFi speeds. It's built using Amped Wireless High Power technology and includes three high-powered dual-band antennas and 12 powerful amplifiers.
The AC1750 Amped Wireless Router with High-Power AC1750 provides three times greater coverage than other routers.
Key Features
12 Powerful amplifiers
High power technology is packed into the Amped Wireless RTA1750: The router is equipped with 12 powerful, advanced amplifiers and three long-range antennas. It has an industry-leading output of 800mW.
Powerful Processing
The AC1750's powerful internal processor allows you to run computing network activities at lightning-fast internet speeds. In addition, it produces faster, more reliable wired connections.
Basic Configuration
Amped Wireless' Basic Setup Wizard walks users through its setup process. It also automatically configures your ISP settings.
Reaches Dead Spots
The RTA1750 offers unparalleled WiFi performance and coverage to integrate three high-range antennas and low-noise amps. It penetrates thick walls quickly and can reach WiFi dead areas in your home.
Ultra-Fast Internet Speeds
RTA1750 WiFi speeds are up to 450Mbps for 2.4GHz connections. 5GHz connections can deliver 1300Mbps. It is equipped with next-generation 802.11ac WiFi technology and has six times more internet speed than 802.11n.
Smart Firewall Security
Amped Wireless AC1750 is not only a great hardware product, but it also has the best cyber-protection capacity. This will protect your home and devices from malware, spyware, ransomware, and other vulnerabilities. It offers dual firewall protection with NAT or SPI. Additionally, the WPS configuration allows for a safe and secure Internet connection.
What We Liked
What we Didn't Like

12 Amplifiers (powerful)
3 High-Gain Antennas and Long-Range Antennas
Affordable price
Great WiFi coverage
Flexible customization and setup
Moderate Bandwidth

No USB Printing is present
Only USB 2.0 Port available

Although it looks simple, this product can deliver distances up to 200 feet. This is a considerable amount of distance to consider for large homes with lots of outdoor space.
You can adjust the power of this unit to suit your needs. It has a transmission power range from 0 to 27 dBm (or 500mW). Depending on your internet system, you can choose between the 2GHz and 5GHz models.
Key Features
Easy installation
no wires required, just plug into a power socket;
Long Coverage
It's Ideal for long-distance deployments like campuses, outdoor events, stadiums, or large houses where the router is located far from users or sensitive equipment such as surveillance cameras.
High Speed
Crossband technology optimizes simultaneous use of multiple WiFi bands (2.4GHz & 5GHz) to eliminate interference and provide high-speed connections. It supports 802.11g/n standard devices in a 2.4GHz wireless band while providing 802.11ac/n throughput at up to 300Mbps* in 5Ghz for the faster WiFi network and Internet speeds.
Convenient and effective
PoE power supply PSE10 provides up to 10W of power for the CPE510 when connected with a LAN cable, which allows you to reduce the number of devices powered by AC outlets.
Advanced WiFi technology
The TP-Link CPE is an outdoor 300Mbps wireless Nano AP that operates in 2.4GHz and 5Ghz bands simultaneously. It delivers 802.11ac/n throughput at up to 15km*(line of sight) using high-quality RF components, including two dual-band antennas and a 3rd generation chipset, ensuring reliable connections and stable signal coverage even under heavy loading or when operating on long distances from the router.
Smart Local Storage
You can use USB storage as a remote file server and free up PC resources while sharing files with multiple clients simultaneously via Ethernet wire or WiFi connection (Maximum data transfer speed of USB device is 10Mbps).
What We Liked
What we Didn't Like

Distance capacity up to 200 feet
There are many models to choose from
Performance gains of 13dBi are outstanding
Software is simple to use and practical

Poor weather can make poor performance
Instructions for installation are not provided

You can use The WL-WN572HP3 Outdoor Point To Point CPE for WISP CPE solutions and long-distance wireless network solutions. In addition, it is ideal for data transmission and video surveillance. This extender for the outdoor WiFi range is high power and designed for WISP CPE. It's a perfect solution to small businesses, offices, and homes with outdoor networking needs.
Key Features
Simultaneous dual Band Speed
Simultaneous tech refers to the relationship between two events that are assumed to be co-occurring. The Simultaneous technology Wiki will help you multitask more effectively and faster. Dual-band speeds of up to N300 Mbps in 2.4Ghz will be increased to 1.2 Gbps in 5Ghz mode. In addition, this wireless router will allow you to stream videos and play high-resolution games.
Four Fold-Up External High Gain Antennas
The Wavlink AC1200 comes with four high-gain antennas that fold up, making it easy to transport. These antennas can also be used to cover large areas in your home, small business, or workplace.
Integrated USB 2.0 Port
The Wavlink AC1200 router has an integrated USB 2.0 port. It was designed specifically for this purpose. It allows users wirelessly to share scanners, digital cameras, printers, and USB storage devices.
Advanced Wireless Security
Connect to your wireless digital devices and secure your network.
What We Liked
What we Didn't Like

It is straightforward to assemble. All equipment comes with an installation guide CD.
WAVLINK customer support can help you solve problems online 24/7
Advanced Wireless Security
Integrated USB 2.0 Port
Fold-up Four external antennas with high gain

Wall-mounting is not possible
Data transfer speeds slow at N300 2.4Ghz

Google Nest WiFi is now available in the whole-home WiFi system. It replaces your existing router and provides reliable WiFi coverage all over your home. The Nest WiFi points come with a speaker that Google Assistant can control. You can also play music and control connected devices.
Key Features
Nest WiFi
This product comes with two router units. Nest WiFi offers a flexible and scalable WiFi system. You can use the Nest WiFi devices together to cover your entire home with fast, reliable WiFi and eliminate buffering in any room. Coverage is up to 4400 sq. feet.
Great Coverage
One WiFi router plugs into your modem and creates your WiFi network. The second extends your wireless network and keeps you connected to all devices in every room. Finally, add Nest WiFi routers and points to your system for more excellent coverage.
The Nest WiFi routers can handle up to 200 connected devices and stream multiple 4K videos simultaneously. Compatible With Google WiFi, Ethernet ports are included on every router. 15W power adapter.
Works Fast
Intelligently works behind the scenes to ensure that your WiFi stays fast. For example, use the WiFi to move from one room to another in a video conference with an uninterrupted signal. In addition, nest WiFi updates automatically to update itself and provide new features that will help keep your network safe and sound.
Easy Setup
You can set up Nest WiFi quickly in the app. You can easily create a guest network or share your password with just a few clicks. In addition, you can decide which devices you want to prioritize to get faster speeds and set parental controls to control online time for your kids.
What We Liked
What we Didn't Like

Google WiFi offers faster performance
Set up a guest network easily
Smart speakers have secondary points that double as secondary points
Integration with Nest smart displays to manage guest networks

There are only two Ethernet jacks at the router and none at the Points
To access certain advanced features, you will need two apps
Takeaway
We hope you've found this post to be helpful and informative when considering which WiFi extender is best for your backyard. If you have any questions or concerns about the products that we've reviewed or other brands of WiFi extenders that you would like us to review, please let us know in the comments below! We want all our readers to be delighted with their purchase so they can enjoy an uninterrupted signal while at home on their property. Happy shopping!
Disclaimer: As an Amazon Associate, I earn from qualifying purchases.