Sony has not disappointed us with its every next-gen gaming console. The same is true for the PS5, creating a genuine sense of excitement with its innovative features and a modern look to the UI. In PS5, Sony has focused basically on the critical parts related to the user experience. You will find a more uncomplicated and straightforward but revolutionary controller and interface in Sony's new gaming console product.
PS5 is getting more and more popular among gamers nowadays, and for this reason, we have decided to review its different features such as design, interface, performance, speed, and specification, etc. By reading our PS5 reviews, you will indeed judge the new PS5 in a better way.
So, let's start with the PS5 design!
PS5 Design
Modern Gaming Console.
Polarizing Space-age aesthetic.
A good size with a bigger fan and more space for ventilation.
The PS5 would have been considered as the heavyweight model if gaming consoles had weight classes. The dimensions of PS5 are around 39 x 10.4 x 26 cm (Height x Width x Diameter). Its weight is 4.5 kg, due to which you will feel a noticeable downward force while lifting it. Due to its curved surfaces, the measurement of its design is slightly difficult, but we have managed for you. PS5 is the largest model Sony has ever made. One of the major elements we like in the design of PS5 is the subtle lighting effect of the system. You will feel a soothing hue no matter it is in rest mode or operating.
The PS5 has impressed millions of gamers with its outstanding modern features and a revolutionary controller.
The light indicator system of PS5 is just like PS4. It will turn orange in the rest mode, while in operating mode, the light will change from blue to white. A slight drawback in the design of PS5 is the glossy plastic present in the center spine of the console. There are likely chances of scratching this plastic over time. The front USB ports are also located in this area. So, to save the plastic from scratching, you should be careful while plugging in devices. This plastic part is also a big magnet for fingerprint and dust.
In terms of power ports, two ports, a USB-A and USB-C, are present on the front of the PS5. These four ports on the backside of PS5 including a power port, an Ethernet port, an HDMI 2.1 port, and two USB-A ports. You will not find any proprietary ports on the PS5 console, so you have to use the other ports carefully.
PS5 Specifications
CPU: AMD Zen 2-based CPU + 8 cores at 3.5GHz
GPU: 10.28 TFLOPs, 36 CUs at 2.23GHz
GPU Architecture: Custom RDNA 2
Memory Interface: 16GB GDDR6 / 256-bit
Memory Bandwidth: 448GB/s
Internal Storage: Custom 825GB SSD
Usable Storage 667.2GB
External Storage: USB HDD support (for PS4 games only)
Expandable Storage: NVMe SSD Slot
Optical Drive: 4K UHD Blu-ray drive
PS5 Performance
Capable of playing games at 4K/120fps.
Support for 8K/60.
New SSD provides faster loading times.
Tempest 3D audio just like Atmos-lite.
Cool operation at all times.
PS5 is an impressive piece of hardware when it comes to specifications. With its new custom RDNA 2 GPU, you can enjoy the gameplay of 4K resolution at 120 frames/s. For a faster process speed, PS5 is equipped with the Octa-core AMD Zen 2-based CPU. The clock speed is around 3.5GHz, which is considered the best variable frequency in any PlayStation version. When you look at the memory (which is 16 GB of GDDR6) and an SSD Drive of 825GB NVMe, you will certainly consider PS5 as a seriously made gaming machine.

Another feather in the cap of PS5 is that it can output 8K resolution, which is impossible to find in any other gaming console. However, a firmware update from Sony is required to use this support.
Capable of playing games at 4K/120fps, Support for 8K/60, Faster loading time, and great audio are some of the PS5 Features
Everything is just perfect in the specifications of PS5. The only thing which can be considered as a potential issue is the amount of storage available. PS5 is equipped with only 825GB SSD instead of TBs (2 TB or 1 TB). It might be a good option to reduce the console's price, but you can run out of storage as well in this situation.
Among 825 GB, you can use 667.2GB as useable storage. Only 4 or 5 games like 【PS5】Marvel's Spider-Man: Miles Morales can cover this space, due to which you will quickly run out of storage. That might be considered as an oversight in the manufacturing of PS5. But like all other problems, this problem has a solution: You can use an external SSD or hard drive to expand the usable storage. You have to plug in your external SSD or hard drive through the USB port, and you will be ready to use it.
As PS5 is Sony's upgraded hardware, you will enjoy fast load times of heavy video games. For example, Marvel's Spider-Man, which takes at least 15-20 seconds to load on PS4, will only take 1 or 2 seconds to load on PS5. It is an excellent upgrade in performance.
There is a specific Resolution Mode available in PS5 through which you can enjoy higher resolutions and better rendering techniques with detailed graphics.
PS5 Interface
The interface of PS5 is a clean, snappy, and attractive evolution of PS4 software. Navigating different menus in the interface is almost instantaneous. Sony has rectified any sluggishness and clutterers present in the interface of PS4, in PS5. The interface of PS5 is very much familiar for PS4 users. You will see a horizontal row of tiles which are indicating the most recent games you have played. Sony's has given a neat aesthetic touch to the interface of PS5 in which you will see an entire home screen tile's art with background music once you highlight a game.

It will be a glorious feeling for the user. There is a specific tab to explore news and updates on the home screen. You can instantly download your collection of PS4 titles with the help of a Game library tab present in the primary interfaces. Like PS4, PS5 allows you to capture screenshots and videos.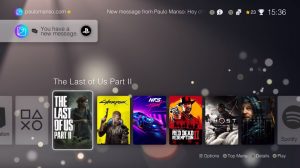 The option of streaming on YouTube or Twitch is also available in the "Create" button. Unlike PS4, you can customize the control center in PS5 through which you can get quick access to certain features, such as network settings, broadcast controls, and accessibility options. It is a significant improvement from the PS4's quick menu in which a big chunk of the screen was not customizable.
The highly upgraded interface of PS5 allows you to control the activities menu while playing games. For example, while playing Spider-Man, you can get information such as the list of in-game activities, upcoming trophies, and your progress in the current mission during the gameplay. This feature was not available on PS4.
There is only one minor issue in the interface of PS5. It doesn't warn you when you are exiting the game to start a new one. It can cause the loss of unsaved progress. Sony should work on this issue and make it right.
PS5 DualSense Controller
DualSense Controller is one of the most next-generation features in Sony's PS4. The player can get a high level of tactile immersion from the Playstation DualSense Wireless Controller, thanks to the perfect blend of the built-in speaker, haptic feedback, and adaptive triggers. The DualSense works best in Astro's Playroom, where you can literarily see what Sony's new controller can do. It is the best controller to navigate the new era of console gaming. The buttons present on the gamepad are with traditional markings such as Cross (X), classic triangle, square, and circle. These buttons are devoid of colors, just like PS Vita.
A pop of color exists around the side of the central touchpad with no lightbar of PS4. PS5 DualSense Controller comes with a new placement, due to which you will not see any glow reflecting off your TV. Hence, all the annoyances of PS4 are removed in the PS5 controller.
Some additional buttons on the PS5 DualSense haven't been seen before on any Sony's gamepad. One of these buttons is the "Mute" button.
By pressing the mute button, you can turn off the built-in microphone of the controller. The built-in microphone of the PS5 DualSense Controller is capable of capturing sound from a natural playing position. It means you will not have to hold the gamepad towards your mouth while talking.
Now we come to the battery life of the DualSense controller. According to our testing with different games like Miles Morales or Astro's Playroom, the battery of the DualSense Controller can last up to 12 and a half hours. It means you can play games with DualSense Controller for a whole day without charging.

For charging the DualSense Controller, you have two options. Either connect the DualSense Controller with PS5 itself via the
USB-C
to
USB-A
cable (available in the box) or buy a separate
Playstation DualSense Charging Station
, which can charge two DualSense Controllers at a time. Charging of DualSense Controller is also possible via rear USB ports. In this case, you will use USB-C to USB-C cable.
PS5 3D Audio
You can hear game sounds with a high directionality compared to standard stereos, thanks to the delivery of 3D audio enabled by the PS5s Tempest Engine. The 3D audio of PS5 is specially designed to work with most existing high-quality headsets and headphones. Through PS5 3D Audio, you can enjoy exciting details of the audio of games. For example, you can hear the rain clearly as it is coming from above you.
In 3D-supported games, the minimal frequency sounds can be heard properly, even the whispering.
PS5 Game Library
Astro's Playroom Installed
Demon's Souls and Spider-Man: Miles Morales
PlayStation Plus Collection (Good for new players particularly)
A dozen of PS4 Collection games are compatible with PS5. In Sony's new PlayStation Plus Collection, you will have the option to download 20 defining games belong to the last generation. Astro's Playroom is pre-installed on every PS5 through which you can enjoy several exciting games.
Some other significant games present in the PS5 Game Library include Sackboy: A Big Adventure, Call of Duty: Black Ops Cold War, and Watchdogs: Legion.
Final Notes
The PS5 is a modern and genuine leap forwarding in the console gaming industry. It offers stunning performance with 4K/120GHz resolution and a game-changing controller in the form of DualSense. Both these features have made gaming more immersive and tactile than previous generation gaming consoles. You can play almost all of the PS4 games on it with better running and loading times.
However, like all other products, PS5 also has some minor issues. The launch lineup of PS5 is narrow. It means you can enjoy the significant releases only, such as Assassin's Creed Valhalla and Spider-Man, etc. Low usable storage is another highlightable problem that can be covered by using external SSD or hard drives.
If we take an overall look, the PS5 is a superb gaming console that offers a high-quality and next-generation gaming experience. It has a highly customizable, neat, and attractive interface with a high-quality controller. The PS5 is both well-designed and powerful. If sony engineers fix the issue we discussed, it can become a five-star product in the gaming industry.

Pros
High-quality gameplay with 4K/120 resolution
8K/60 Support is present in PS5
Significantly High and faster game loading with outstanding performance
Fast, beautiful, and new UI
The next-generation DualSense controller with superb haptic feedback
PlayStation Plus Collection of Games
Speedy SSD
Snappy and attractive interface
Outclass backward compatibility
Fantastic 3D audio
Cons
Unwieldy and massive design
Big-Sized controller
Complicated Size
Less useable storage (just 625GBs)
No Atmos or Dolby Vision
We hope that this PlayStation review will help you in deciding to buy the PS5. Thank You very much for your precious time!
Disclaimer: As an Amazon Associate I earn from qualifying purchases.