There are a lot of garden sets available on the market, which makes a choice not easy. Before you decide to buy, acquire more knowledge about what garden furniture will be the most durable and most substantial, and at the same time, beautifully decorate your garden. Such furniture should be an investment for years, not for one season.
Another important aspect is easy maintenance since you already have enough work in the garden. Besides, we buy garden furniture so that we can rest, relax and have a good time thanks to it, not to worry about its care and whether, if it rains at night, the furniture will still be in good condition in the morning.
---
Garden furniture – what material is the most durable?
You've probably already encountered garden furniture made of different materials and are wondering which material is the best and strongest. After all, it is important to remember that garden furniture should not only look beautiful, decorate the garden and be practical, but it must be strong. Such a garden set will experience various atmospheric changes: intense sun, rain, snow, hail, or wind, and it must withstand all this without discoloring, heating up, or destroying.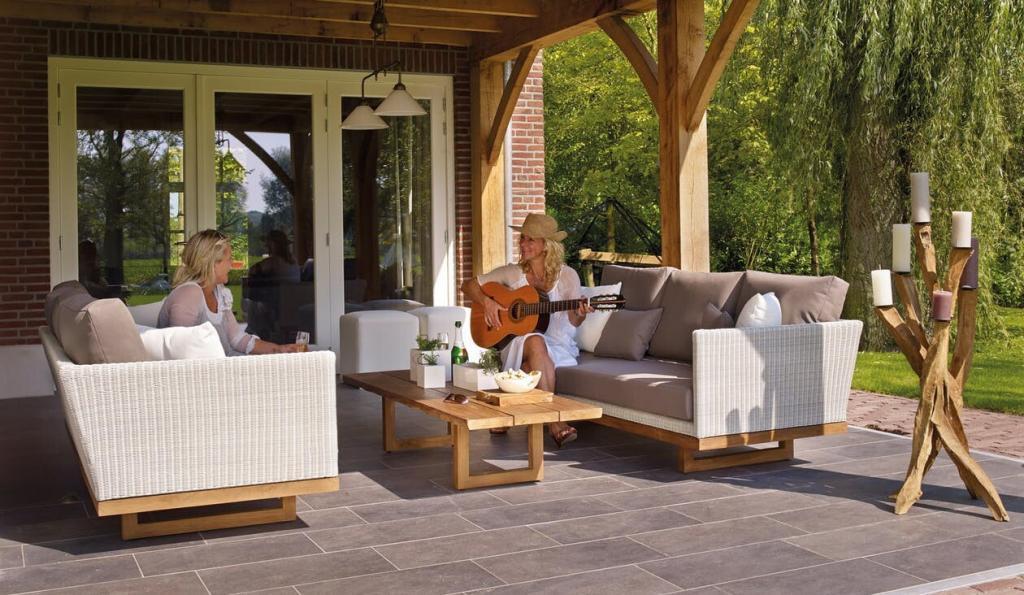 ---
Teak Garden Furniture
Teak has no equal when it comes to garden furniture, and it is hard to find any argument against choosing furniture made of this same material. So, one by one, Teak is an almost indestructible material and, simultaneously, durable regardless of weather conditions.
It does not discolor under the influence of strong sunlight because it is resistant to UV radiation
It is resistant to snow, hail, and rain, and you can even douse it yourself with a garden hose to clean it,
It does not require any complicated maintenance or care
No need to hide it in winter. It can stand in the garden all year round
Also called deco rattan – it is ecological and recyclable
It does not contain any toxins or allergenic substances – safe for children, allergy sufferers, and the environment
It comes in many shades and gives a slightly tropical look
Teak is highly resistant to rotting
Our Top Pick
Deciding on garden furniture made of Teak, you are sure that such a set will serve you all year round, and you don't have to worry about weather and unforeseen expenses.
Beautiful rattan sets are available on the market in various colors, so you can choose the one that best suits your taste.
What's more, you can choose garden furniture sets for different numbers of people, so you can perfectly match the furniture to your lifestyle.
The cushions that should be included in the set are also of no small importance – they make the garden furniture set comfortable and cozy.
The presented garden furniture comes with cushions that have waterproof covers and are removable – in a few years; you can completely change the character of your garden furniture by changing the covers to a different color or pattern.
---
Rattan Garden Furniture
In addition to Teak, Rattan is also available – contrary to appearances, it is not the same material, although visually, it is almost identical. Unfortunately, Rattan does not boast such a high resistance to weather conditions, which is a lot of trouble. First, Rattan does not tolerate contact with water well, so you must hide such a set or properly cover it in case of rain. Moreover, Rattan also does not tolerate prolonged sunlight in the best way, yet you will find such a piece of garden furniture set most useful in spring and summer. Because of its water sensitivity, you must be careful when cleaning and hiding it for the winter.
Our Top Pick
---
Plastic Garden Furniture
You probably already don't have the best associations with the word plastic itself, and rightly so. Not only is this material harmful to the environment, but it's also not the best for garden furniture because it gets boiling in the sun, and touching it can burn us. This is especially risky if you have children and pets in your garden. Plastic is also perishable, so we advise against choosing garden furniture made of this material.
---
 Wooden Garden Furniture
Although wood is associated with strong and sturdy material, it is unfortunately not the best for garden furniture. Why? Because it loses its color through the sun and rain, the furniture will look old and worn after some time, which will not add to the beauty of your garden. However, if you decide to go for such a set, remember that wood is tough and uncomfortable, so buying cushions for the backrests and seats is essential.
Our Top Pick
---
Furniture for the garden – which set to choose?
Once you have decided what material you want your garden furniture to be made of – it's time to choose a specific set.
It's better to choose between sets for 6, 7, 8, and 9 people – these are optimal, as they will accommodate your family or friends but still not overwhelm your garden. On the other hand, even if you don't invite many friends, you never know what will fall out in the future, who will visit you unexpectedly, or what opportunity to meet in a larger group will arise, so it's better to be well prepared. Besides, when there's a little more space, it's always more comfortable and relaxed; of course, you need to size it to the capabilities of your garden.
---
What to consider when buying Gaden Furniture?
It is worth thinking about how you will use the garden furniture, and then choose the right set under those needs. For example, do you need a large table for shared dinners, or is a coffee table for coffee and pastries enough? Do you and your household members like to sit on sofas or armchairs, or maybe it's the poufs you'll need? Of course, the whole look of the set is also essential, and it will blend well with your garden surroundings.
An interesting suggestion is a set with a large sofa or two connected sofas so that many people can take comfortable seats. Such garden furniture is recommended for families because all household members can sit on one couch and have an excellent time. If a neighbor drops by for coffee, he can sit on the pouf, so he won't feel uncomfortable sitting very close to another person.
This set comes with a coffee table and is an excellent solution if you usually hold small refreshments such as cake and coffee in the garden. Then you don't need a large table that unnecessarily takes up space. An intelligent solution is to buy a garden table for such a set, take it out for special occasions, and use a coffee table for everyday use.